LNR Quick Screen
The East Midlands – LNR Local Cancer Network: Psychological Support Services Implementation Group
In 2007 a working group was formed to look at the Network wide implementation of a simple screening tool for distress and associated problems. The aim is to enable level 2 staff (front line cancer specialists) to receive training and resources necessary to detect and manage distress at a basic level. All staff (level 1) should also be aware of distress and should seek advice from more experienced colleagues where required. The group have put in place in a series of level 2 training days for 2009 and a leaflet is being distributed to level 1 staff.
A. PALLIATIVE CARE SUB-GROUP MEMBERSHIP
| | | |
| --- | --- | --- |
| Addy Hackett | AH | Consultant Clinical Psychologist/Lead Psychologist for Northamptonshire Palliative Care Services |
| Alison Noble | AN | Macmillan Nurse Specialist – Community Team, LCPCT |
| Angela Howe | AH | Operational Business Manager, Northamptonshire Palliative Care Services |
| Annie Jones | AJ | Macmillan Clinical Psychologist, NGH |
| Carolyn Ginns | CS | Head of Nursing Clinical Services/Lead Cancer Nurse, KGH |
| Chris Birtwisle | CB | Practice Development Nurse, LOROS |
| Chris Coggan | CG | Clinical Nurse Specialist in Psycho-Oncology, LPT |
| Dr Alex Mitchell | AM | Consultant Liaison Psychiatrist, LPT |
| Dr Anita Farrell | AF | Head of Service, Clinical Health Psychology, NGH |
| Jo Herdman | JH | Psychologist, UHL |
| Jo Kavanagh (Chair) | JK | Nurse Director, East Midlands Cancer Network |
| Lee Miller | LM | Gynaecology/Oncology Clinical Nurse Specialist, KGH |
| Liz Summers | LS | Cancer Lead Nurse/Oncology Nurse Consultant, NGH |
| Margot Emery | ME | Head of Nursing/Lead Nurse Cancer Centre, UHL |
| Maureen Abbott | MA | Breast Care Nurse, UHL |
| Pat Copson | PC | Senior Macmillan Nurse, LCRPCT |
| Sally Farrow | SF | Ward Manager – Haematology/Deputy Lead Cancer Nurse, KGH |
| Sue Orgill | SO | Breast Care Nurse Specialist, UHL |
| Sue Todd | ST | Clinical Nurse Specialist in Psycho-Oncology, LPT |
| Trish Hughes | TH | Macmillan Haematology Clinical Nurse Specialist, NGH |
B. SCREENING INSTRUMENT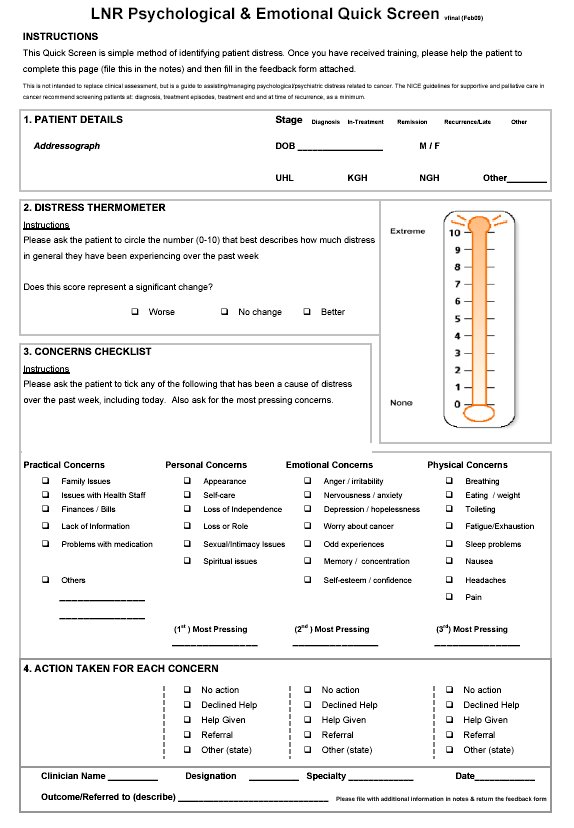 PDF Version
C. PILOT EVALUATION (Presented at IPOS09)
Background
We report on a pilot phase of a large scale DT based screening programme (problem list) that examines the influence upon clinical practice for cancer health professionals. We tested the instrument on three sites.
Methods
The screen comprised DT, locally adapted and inbuilt audit associated help offered and clinicians judgement
We received 84 returns from 3x hospitals with a mean DT score of 4.5. Using a custom problem list there were 230 problems of which anxiety & family issues were most common. These can be considered individuals with unmet need.
Results
Clinicians gave help to 54% of those with unmet need but did not respond in 26%. No help was required in 15%.
Clinicians were unsure about a diagnosis in 19% of cases and in all of these situations the screen informed clinical judgement. As a proportion of all cases the screen informed clinician judgement in 30% and did not influence clinician judgement in 40%. The patient was well before and after screen in 15.5%. 2x2 judgement pre-post screen is illustrated (table).
Comparison with Pre Tool (Pre-post change)
Clinician thinks patient is distressed post-tool

Clinician thinks patient is well post-tool

total

Clinician thinks patient is distressed pre-tool

(or is unsure)

43

10

53

Clinician thinks patient is well pre-tool

7

24

31

50

34

84
Conclusion
This pilot data suggest a simple screening programme can be implemented network wide. Some evidence suggests that the tool can positively influence clinical practice particularly in cases where the clinicians in unsure about a diagnosis pre-screen. However clinical opinion is only changes in a minority (30%) of cases and help is only offered in about half of those identified.
D. FUTURE PLANS
Please go to www.psycho-oncology.info/screen2.htm
www. Psycho-oncology.Information (c)